A business card can be one of the most important marketing tools a business owner can have. It's small and portable and conveys all of the information anyone would need to know about your business. Your business card also needs to stick out from the rest; many people receive hundreds of business cards, so it's important that you make yours as memorable as possible. That's why you should rely on KPrint to do the job for you if you want your restaurant business card design to stand out above the rest.
If you already have a set logo for your restaurant, great! But if you don't, we can also help you come up with a simple logo to brand your opening restaurant. Your business card should say something about the particular mood or setting your restaurant brings to the table, whether it's French cuisine or a relaxed atmosphere with home-style cooking. Whatever it is, your customers need to recognize the expertise and flair your restaurant has, just by looking at your business card.
We guarantee to provide you with the most professional and attractive restaurant business card you can find anywhere in Ho Chi Minh City. We can start from a restaurant business cards template to jog some creative ideas; you can bring us a rough draft of a restaurant business card design that you hide in mind, or we can start completely from scratch. We like to keep our options opens that you can be involved in the creative process and get exactly what you want.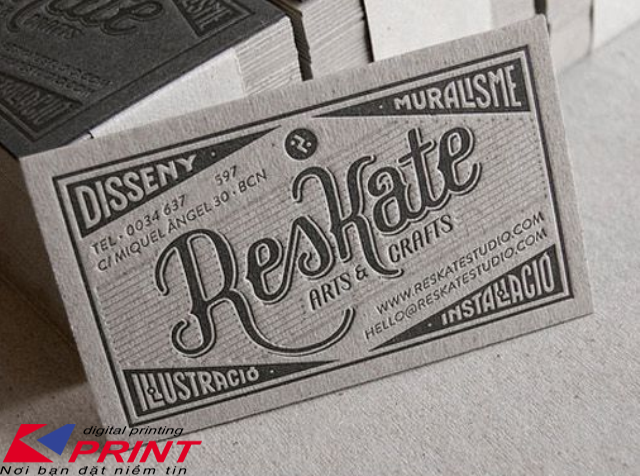 Business Cards for Restaurant
For example, pastries and bakeries tend to use pastel colors with a font that resembles handwriting. It's all about what your restaurant business cards say about your food and services. If you can't really settle on just one unique selling item for your restaurant, we can help you figure out what the image of your restaurant is and tailor that image into a simple graphic or design that sums up the culinary experience for your customers. We're ready to take all of your worries and problems and transform them into a business card design that will stun anyone. Most people tend to overlook the importance of menu design. With unique menus designed to be an effective marketing tool for your restaurant, impress your everyday customers, in addition to your potential customers. Also we have some tips for you when designing and printing restaurant menu, things to Avoid In Menu Restaurant Design
Avoid inconsistencies in your menu. Arrange the items in order and in categories to make it easier to go through.
Avoid correcting or changing prices using labels or price tags. They make the general outlook of your restaurant disorganized and uncomfortable.
Avoid exaggerating your menu. Only add those items you provide, omit those you don't. This makes things easier for your customers.
Your menu restaurant design is as important as your restaurant's setting. Design it best and you will serve your customers best; fail on it and you fail consumers.
The restaurant menu is part of the restaurant. Getting the best menu design can be helpful to your clients having dinner or any other meal in your facility. If you want to stay ahead of your competing businesses, then your designs or layouts should stand out from the rest. The menu you provide to your customers shows the feeling they will have for your business. It is paramount to get the best designs that will bring adventure; it will lure your customers into loving what you are offering them and create a comfortable atmosphere for them to take their time exploring new food products.
And then don't let your business card fall by the wayside and be forgotten. We can help you create the most stunning and appealing restaurant printing business cards  that will pique the interest of any client or customer that receives it. You want to be as memorable as possible, and you can't achieve that with plain black text on a little white card. A well-designed business card creates a timeless appeal. Creating your business card shouldn't be that hard if you take into consideration the simple guidelines above
We looked at the selection each service offers, including paper type, finishes, shapes, paper weight and whether the service offers specialty cards.You will instantly recognise and appreciate the quality that a luxury business card design can add to your next networking or conference event.  With 12 customisable coloured cores also available for the printed edge of your card, luxury business cards will really make someone take notice the next time you hand one over.  The feel of quality from the card alone will be something different to anything else they are likely to pick up that day. We're dedicated to providing you with exactly the professional look your business card design need to pique the interest of current and potential customers. There are many companies that offer business card services, usually cheaper prices, the quality of the prints will not be standard color, sharp. But when looking for a fast digital printing company in tphcm, fast printing and color calibration, we are a longtime printer, and always the first choice of not only domestic customers, but also customers. Foreigners living and working in Vietnam. We guarantee you quality sharp and fast delivery, and unique finished technique. Printing business cards, printing menu, in photobook don't forget to keep up to date with all the latest KPrint Digital Printing news by connecting with us on Facebook, Twitter and Google+. Kprint – digital printing company specializing business cards in Ho Chi Minh city, contact us immediately for a good price.  Call Now to get help by Ms Ha: 0914566238