There is a great truth to the phrase "You never get a second chance to make a first impression." Whatever your business is, first impressions count and there is no first impression in business as important as your printing business cards.
Moving away from generic business cards, people (especially in the creative industries) are trying to create a first impression that reflects their artistic, inventive or resourceful ability. At Digital Printing, we believe in the power of print. Follow the below 5 key tactics and create original and great business cards and begin your success story.

A good business card is not just a tool for giving your information out to prospects but an opportunity to connect with a new prospect on a personal level. For that reason, you are looking for the best printing business cards service?Luxury business cards as those that are of higher quality than a standard business card. The paper used is thicker and of higher quality – hence the word 'luxury'. A quality luxury card that is ultra thick will really help you make an impression the next time you hand one out to a client or customer. Not only will it make a great first impression but it will make a lasting impression and help your card stand out from the countless other business cards that will be sitting in someone's office.

We've all come across lightweight business cards in the past that simply aren't worth the paper they are printed on. More often than not these cards end up going to one place – the bin! Don't have your card end up in the bin; leave a lasting impression with a thicker business card design that really does scream luxury. Your client or business contact will see that no expense has been spared and that you really mean business. This initial impression could be the difference between getting a deal done or winning a pitch and not – printing business cards really can be that important! While everything is going digial these days: sending mail, signing contacts, attending meetings, even networking.., a good business card still a viable way to get your busniess notice. The more flashy, innovative and creative your card, the less likely it is to be tossed into the proverbial pile of business cards and forgotten.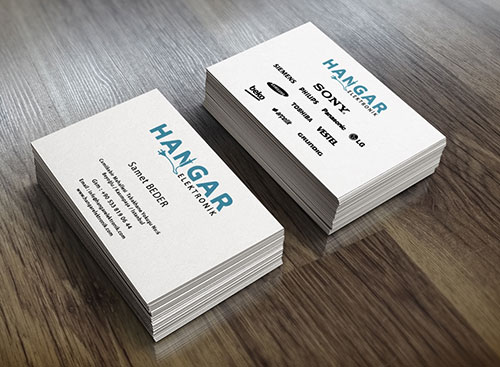 You can choose the standard size of business cards for luxury business cards (85mm x 55mm, 90mm x 55mm or 90mm x 50mm) and they can be printed either portrait or landscape. The 540gsm luxury printing business cards on double thick silk card with a matt lamination for a real quality look and finish. If you want even more luxury than this then the triple thick (810gsm – 865gsm) and quadruple (1080gsm – 1190gsm) thick business cards are what you have been looking for.

These ultra thick luxury business cards are uncoated with a customisable visible coloured edge. These cards are ultra-thick and have to be held to truly appreciate the quality. We believe that no other online business card provider is producing cards as thick as 1190gsm, so these really do need to be seen and felt to be believed. While both offset printing and digital printing create quality products, a good rule thumb to remember is that digial printing business cards is preferale for speciatly colors and for applying certain finishes, such as gloss and ultraviolet varnishes (UV). Digital printing is a good option for small projects
We are Kprint digital printing at Ho Chi Minh City.We are specialists in the production of business cards for clients. Producing only the highest quality business cards at the lowest possible cost, and we pride ourselves on our product and production techniques.
We have a lot of art paper, it's always available.Addition, we have different materials are used to make printing business cards as: clear card in mực trắng, plastic card,… Especially, We are not just printing, we have finishing options. You know, while the type of material you print your business card onto makes a big difference in distinguishing your card from the mundane, each service also offers finishes you can apply to your card to help it stand out. We found that spot UV, foil, lamination coating helped emphasize logos and made the business cards. Here at Digital Printing we love fun, useful and functional business cards. Having a function for your business card means that (if effective enough) people will use it and remember it, making them more likely to remember you. This business card is an excellent example of a simple design and function with a purpose, these two characteristics come together to create an excellent business card that you will be sure to remember.
We looked at the selection each service offers, including paper type, finishes, shapes, paper weight and whether the service offers specialty cards.You will instantly recognise and appreciate the quality that a luxury business card can add to your next networking or conference event.  With 12 customisable coloured cores also available for the printed edge of your card, luxury business cards will really make someone take notice the next time you hand one over.  The feel of quality from the card alone will be something different to anything else they are likely to pick up that day. Printing business cards don't forget to keep up to date with all the latest KPrint Digital Printing news by connecting with us on Facebook, Twitter and Google+. Kprint – digital printing company specializing business cards in Ho Chi Minh city, contact us immediately for a good price. Ms Ha: 0914566238